Specifications
Name
Half Feeding Rice Combine Harvester
Model

GH120

Sizes              (L*W*H) (mm) (in)
3650*1800*1820  (144*71*72)
Weight             (kg) (lb)
1480 (3267)
Engine
Model
2105
Type
Vertical water cooling two cylinder four stroke diesel engine
Rated output / speed     [ps (KW) / rpm]
35 (26) / 2400
Fuel
Diesel
Starting Mode
Electrical starting
Walking Section
Track (pitch number*pitch*width)  (mm) (in)
42*90*350 (42*3.5*13.8)
Ground clearance               (mm) (in)
220 (8.7)
Shift mode
Hydrostatic continuously variable transmission  (HST)
Shift grade
Stepless (subtransmission 2 grade )
Walking speed
Forward   (m/s) (ft/s)
low speed: 0-1.06, (0-3.48)                                         high speed: 0-1.51 (0-4.95)
Backward  (m/s) (ft/s)
llow speed: 0-1.06, (0-3.48)                                         high speed: 0-1.51 (0-4.95)
Steering mode
Hydraulic control
Harvesting   Section
Harvesting rows
3
Harvesting width            (mm) (in)
1200 (47)
Cutting height range         (mm) (in)
50-150 (1.97*5.9)
Adaptable height of crop (full height)  (mm) (in)
650-1200 (25.6*47.3)
Fallen crops adaptability                  (degrees)
Cutting forward direction:   ≤75°                                                    Cutting reverse direction:   ≤65°
Threshing depth control system
Manual
Gear of cutting table
3 levels (low speed, high speed, middle speed)
Threshing               Section
Threshing system
Monocular, axial, low detachable
Threshing cylinder
Diameter* length  (mm) (in)
380*665 (15*26.2)
Speed            (rpm)
630
Secondary transmission mode
Screw auger
Screening method
Shaking, blasting, sucking
Grain                  Discharging Section
Grain Discharging
Funnel
Grain tank
Capacity   [L (bag × 50L) ]
105 (2×50)
Grain unloading port
2
Straw Cutting Section
Factory style
Straw cutting length (mm)(in)
65 (2.6)
Working                  Efficiency
Ha/h
0.1 - 0.2
Technical parameters are subject to change without prior notice.
● Agile mobility
● For working in small and medium fields
● Half feeding, keeps straws
● Harvesting width:1200mm
● Production capacity: 0.1-0.2ha/h
● Wide adaptability for fallen crops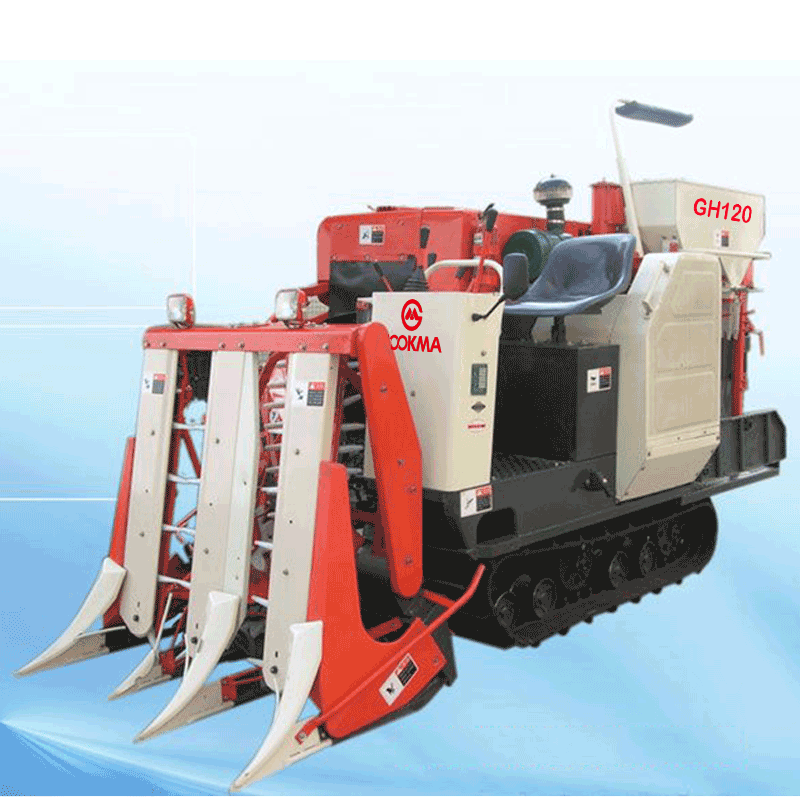 GH120 Half-feeding Combine Rice Harvester
Features and Advantages:
1.Gookma GH120 half feeding combine rice harvester is a national major support project of agricultural machinery. 2.It's convenient in operating, it may be operated by both male and female easily. It's small size,light weight, easy in travel control,flexible in turning. It's simple in disassembling and convenient for maintenance.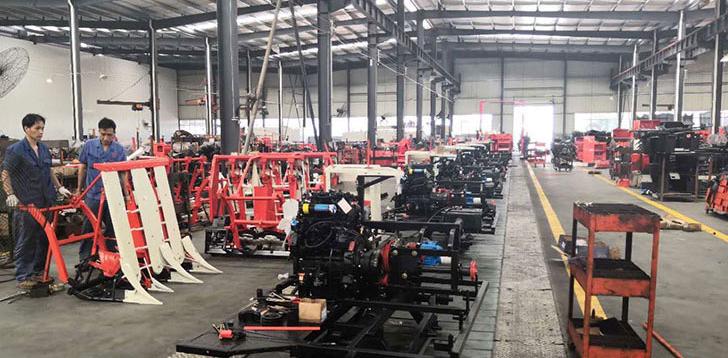 3.It's of strong power and grade ability,it can pass the ridges conveniently and flexibly.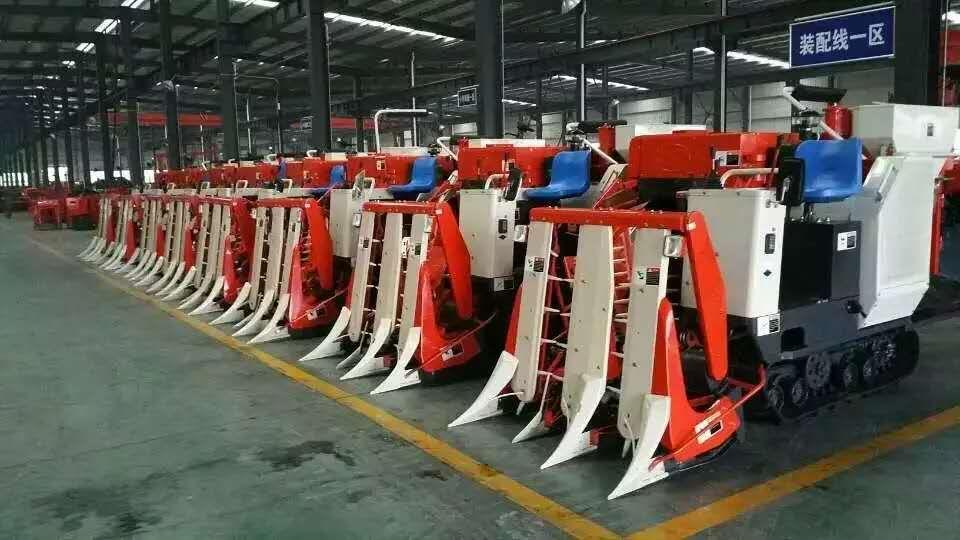 4.With high adaptability, it can be operated in both dry fields and paddy fields, and is suitable for harvesting in the large fields in plain areas and in the small fields in hill areas. 5.The machine is of compact structure, threshes in two times. The first threshing integrates threshing and conveying, and the second threshing integrates threshing and sundries removal. The overall threshing effect is good. 6.It can be widely adaptable for fallen crops. 7.It's of low fuel consumption and high working efficiency.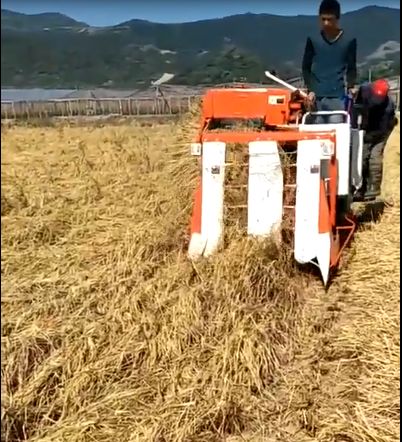 8.Mini half-feeding is the current advanced harvesting technology in the world. It keeps straws, and ensures the recycling of straws easily and conveniently.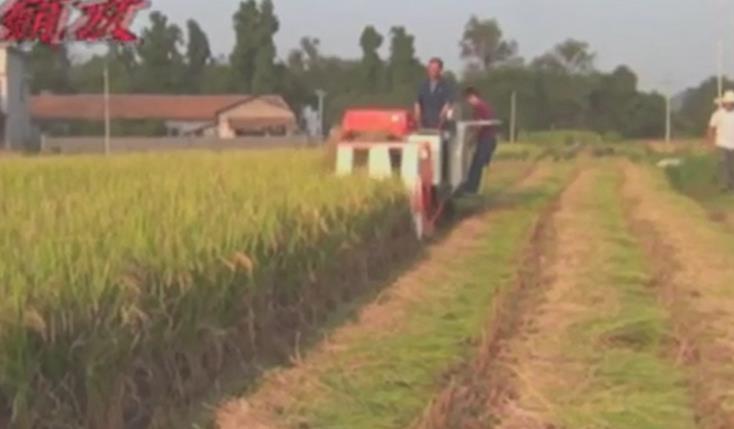 Application Cases
Gookma small half feeding combine rice harvester is suitable for both family use and for small business purpose, it has been selling well and very popular in both domestic and overseas market, and has been enjoying high reputation among customers.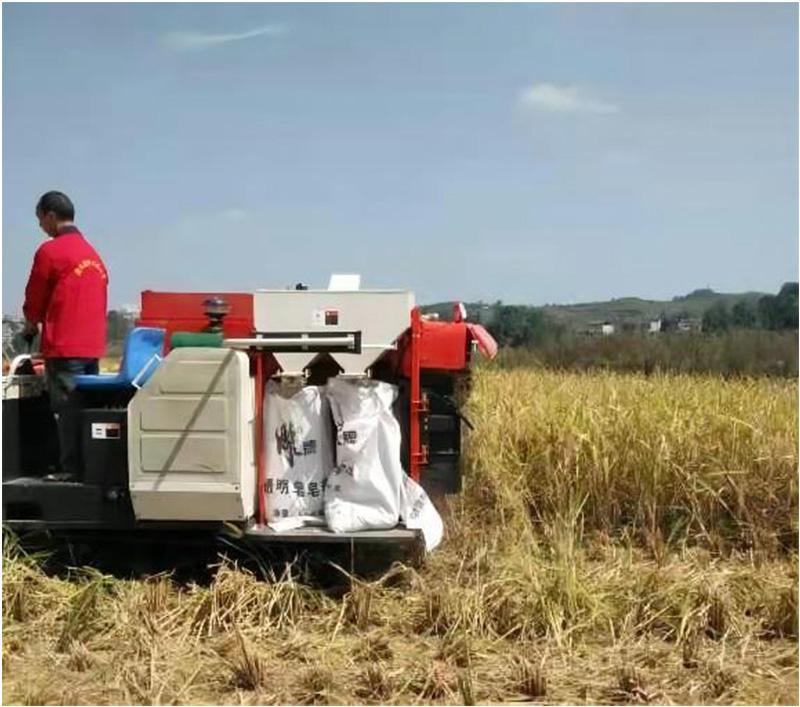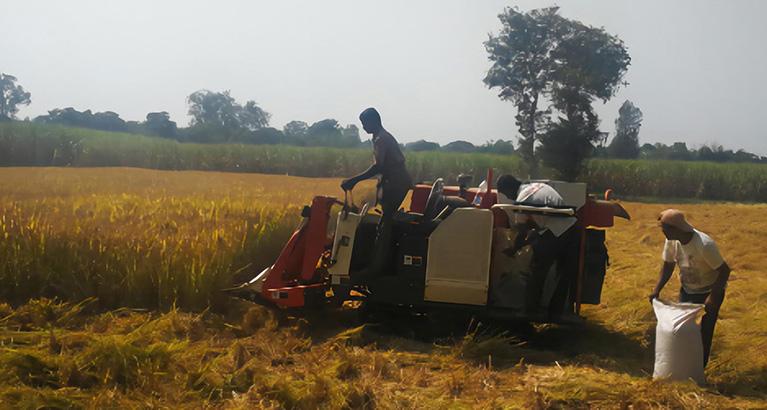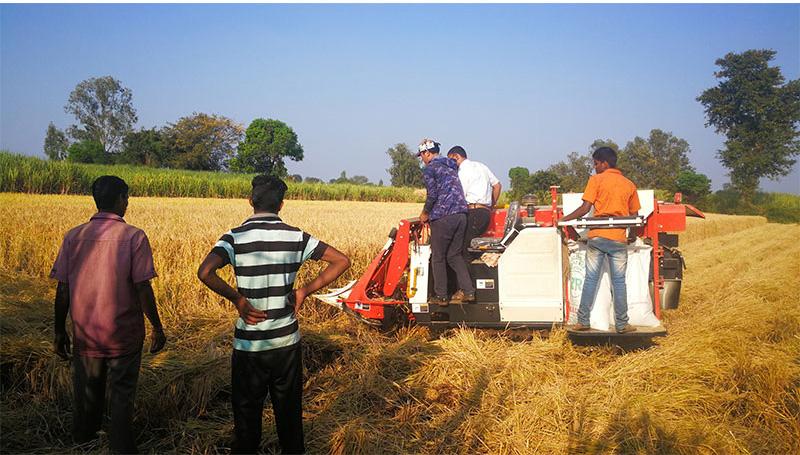 Production Video